MeterLeader Pilot Opportunity
MeterLeader gamifies saving energy by using real-time utility data and behavioral science. We're like a Fitbit challenge, but instead of steps we measure kWh, therm, and CO2 reductions.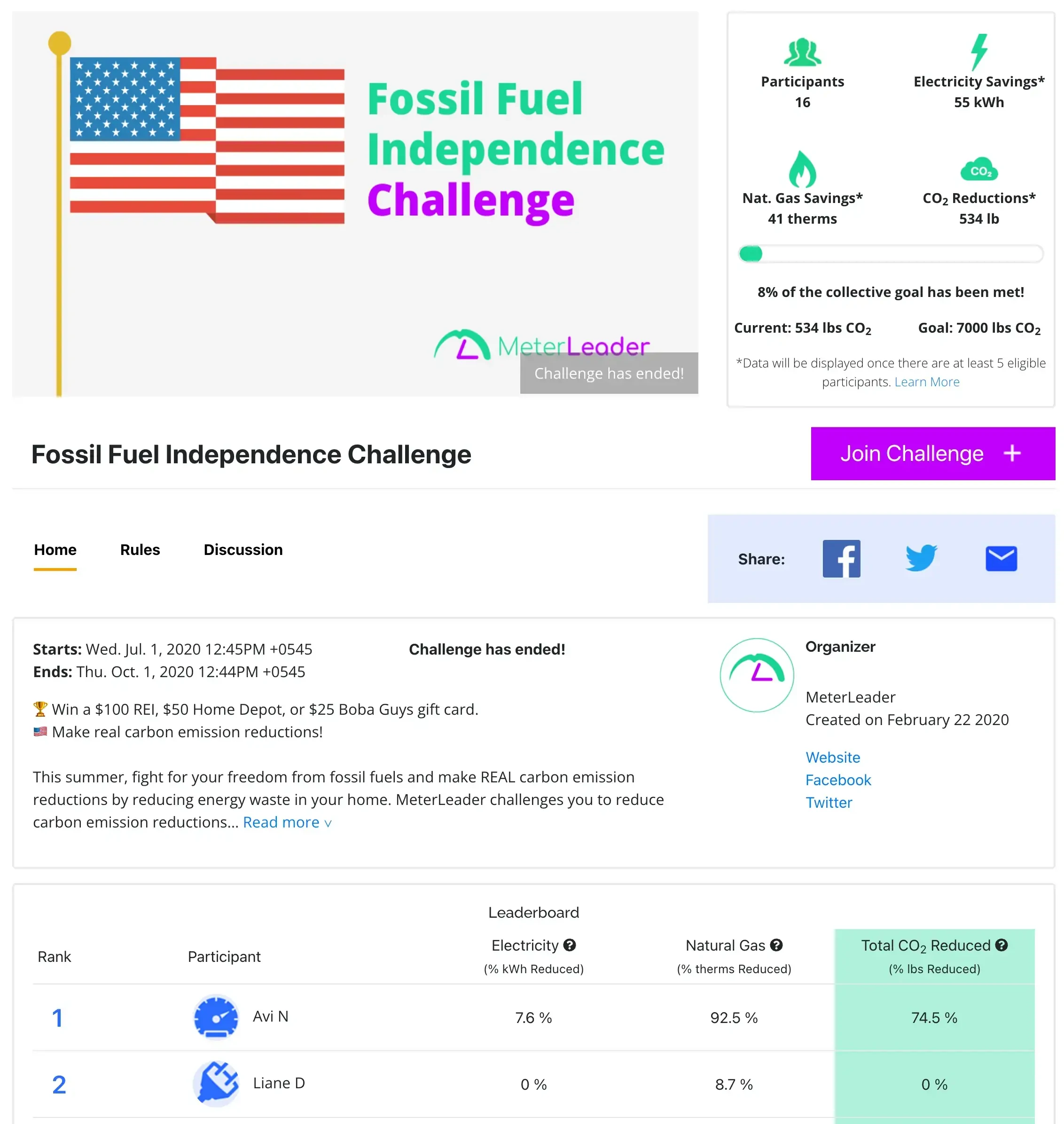 Seeking Companies, Cities, or Property Management Groups located in CA, NY, MD, WA, IL, or FL with 100+ employees/residents to pilot a MeterLeader Energy Savings Challenge.
Pilot Goals
Run a successful 3 month long Energy Savings Challenge for Employees and/or Residents:
With 50 - 100+ challenge participants
Resulting in 5 - 10% in energy savings
Resulting in participant engagement
How MeterLeader Works

Design Challenge
Give your challenge a name, set energy reduction goals, and the types of rewards.

Invite Participants
Recruit challenge participants by sharing the challenge page over social media and email.

Monitor Savings
Monitor the progress of your challenge over its duration, and engage with participants.

Reward Winners
At the end of the challenge reward your winners with a prize and recognition.
Pilot Benefits
1. Help your employees/residents reduce their utility bills while working from home.
2. Increase employee/resident satisfaction through engagement on climate change.
3. Track measure and report emissions from home based emplovees/residents.
4. Help your state meet its ambitious residential energy & climate goals.
Month 1
Build & Launch Challenge
Month 2
Challenge Starts - Kickoff Event
Month 3
12 Email Modules & Slack Facilitation
Month 4
Challenge Ends - Awards Prizes
Month 5
Data Extract & Case Study